Today, many have to work from home. In this situation, it is crucial to rebuild and refine the usual business processes, but most importantly, we need to keep them personalized. For many, working from home has become a real challenge due to lack of employee engagement and basic human interactions. In this article, we will introduce Teamflect app and its integration in Microsoft Teams. We will cover the main functions of the app and discuss how it boosts employee productivity by bringing one-on-one meetings to a whole new level.
Background
Teamflect is a small team of nine people. Teamflect is a very diverse and international organization; their engineering team is in San Francisco, and their business development representatives and marketing people are spread across Europe – Amsterdam, Turkey, Belgium and Bulgaria. Before starting Teamflect, the cofounders were working in the technology sector – mostly dealing with Microsoft and Google products, such as implementation, consulting, user adoption and other.
What is Teamflect?
Teamflect is an app designed for Microsoft Teams and Outlook that enhances the internal and external communication of an organization with its unique tools:
1-on-1 meeting organization: Talking points, tasks, private and shared notes, feedback and recognition sharing are the main functionalities of the 1-on-1 module. Teamflect was one of the launch partners of a functionality called "Meeting Extensibility" which allows users to add applications to their Teams meetings.
Tracking relationships with colleagues: Teamflect calls this tool "Focus people" and with this functionality, companies can create their custom relationship types, for example, Mentor/mentee, Manager/direct report, Newcomer/onboarding buddy, etc. When people add their colleagues using one of these types, they start tracking their 1-1 meetings in Teamflect with our auto-reminders, talking point suggestions and etc.
Sending and receiving recognitions: Teamflect allows companies to create recognition badges that reflect their cultural values. End-users can send recognition badges to each other inside of Microsoft Teams and also in Microsoft Outlook.
Giving and requesting feedback: Companies can create their feedback templates within Teamflect. Managers and direct reports can use these custom templates to send or request feedback to/from each other. Managers can also request feedback on behalf of their employees.
Teamflect is looking to introduce a new feature called "Self-review", that will start a feedback cycle between a manager and the employee before performance review periods.
Tasks module: Teamflect provides users a light-weight task management functionality, where users can create tasks while they are having their 1-on-1 meetings or also outside of 1-on-1 meetings as well.
Teamflect team is currently working on a module that will be called "Goals" and this module will be integrated with the Tasks module. It will allow our users to create goals and objectives within Teamflect which will then be used during the performance review process.
How to use Teamflect?
Teamflect app was built on Microsoft platforms with Azure Active Directory for the directory infrastructure, Azure for hosting, PowerBI for reporting and etc. The app is designed to work in Microsoft Teams, not as a standalone application – although it can work as a standalone application, Teamflect is still suggested to be used in Microsoft Teams due to its numerous integration capabilities. Teamflect supports Microsoft Teams bots, messaging extensions, meeting extensibility features and single sign-on (SSO).
Set up of the application is very easy an requires zero IT involvement. Here is how to install and configure Teamflect.
Search for Teamflect in the Apps tab in Microsoft Teams.
Follow the instructions on the screen and finish installing the app.
Teamflect will appear in your menu on the left side of the screen. You are now ready to boost your employee engagement, so let's jump right ahead!
The Home page has a very seamless design and everything you need is right in front of you: on the right side you have an overview of the upcoming activities with your team for the week, as well as notification hub for assigned and completed tasks.
You are instantly invited to create relationships type between your employees or colleagues. In this section you can choose how often you would like to have 1-on-1 meetings with the selected person. This function helps keep the direct reporting and the feedback loop under control.
In the menu on the left, you can choose to take notes, give or ask for feedback and recognitions, as well as assign tasks to your team members.
They will get an instant notification about a task being assigned, as well as you will get a notification that the task has been completed.
How much does it cost to use Teamflect?
Teamflect and all of its features are absolutely free and for less than 25 users on the platform. However, if you have more than 25 users, you would have to switch to a paid version that starts at $4 per user per month.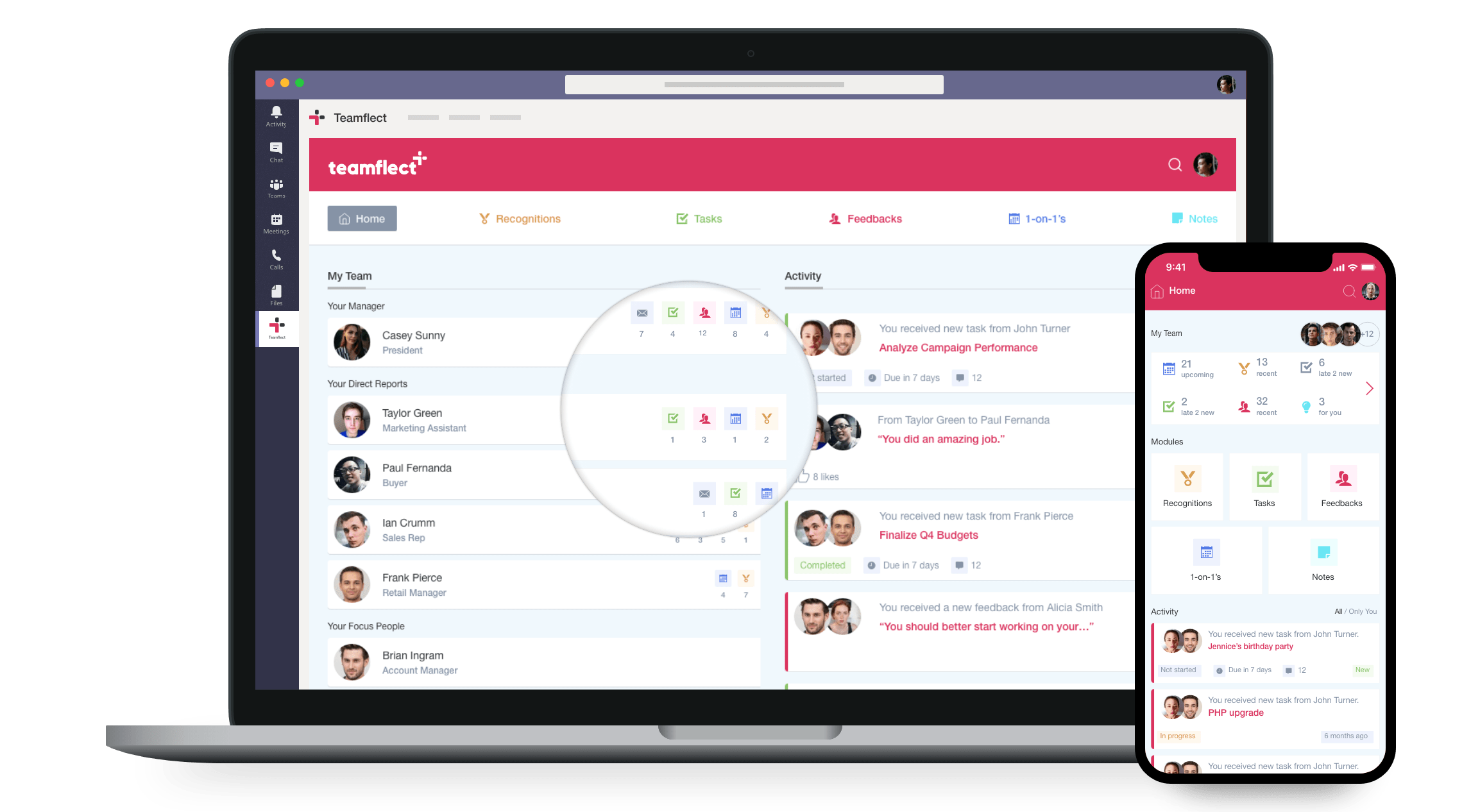 For many people it is still not easy to transfer to the remote workspace, however, many appreciate the new reality in terms of the benefits it comes with. Better planning of personal time, a convenient schedule, reduced costs for transport, gasoline, lunches, office clothes, parking – all these are the obvious advantages of home office. Now, with tools like Teamflect for Microsoft Teams, working from home has become even easier. 
Teamflect team believes that Microsoft Teams apps will be even more popular in the upcoming years and using platform capabilities of Microsoft Teams to the fullest will be extremely important. As it turns out, remote workspace provides better organization and planning of processes and workflow. Meetings are becoming more effective, due to a tight schedule, employee engagement increases, and a single information space is created. Surprisingly, the distance brings people closer together, makes the team more united.
The vast majority of companies in the world are now considering the prospect of transferring 25-30% of employees to permanent jobs from home, which means the number of users of platforms like Microsoft Teams will be rapidly increasing. For this reason, Teamflect claims to be investing heavily on Microsoft Teams integration, to bring even more powerful functions in the future.
Click here to add Teamflect app to your Microsoft Teams toolbox.
For more information visit https://teamflect.com.